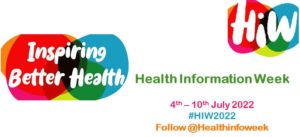 We're raising the profile of health literacy and educating on how to find health information from credible sources.
• Use the NIHR collection to pitch health information at the right level
• Take part in our quiz for a chance to win £20 worth of Love2Shop vouchers. It aims to improve how we communicate with patients, clients and carers and impact on how they interpret what they are told by people they encounter in their healthcare journey (opens 4th July).
• Visit our stall outside the canteen at Moseley Hall Hospital to learn more about what good, reliable, health information looks like.
• Look out for more information on Twitter @smallwoodlib
• Have a look through the useful resource lists for the themes of #HIW2022
4th July – Translated Patient Information
5th July – Long Covid
6th July – Your Health Resource Collection
7th July – Kidney Health
8th July – Media Literacy
9th July – Heart Healthy
10th July – Arthritis
Knowledge and library services – Give the Gift of Time
Benefits of working with NHS knowledge and library services